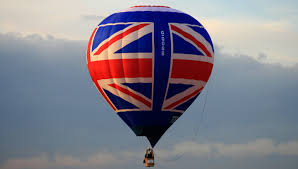 When I moved to the US over 30 years ago I was chasing a woman, though I assume most of my British-educated colleagues working outside the UK in the life sciences left to take up new jobs. Regardless, none of us kicked up quite the public storm that's coming from Harry and Meghan's decision to step back from royal life and move to North America.
What we do have in common with the Duke and Duchess of Sussex is that, while we left to pursue new opportunities and adventures, our feelings of warmth toward the UK remain strong. As Prince Harry said a few days ago,
"The UK is my home and a place that I love. That will never change."
Reactions to Harry and Meghan's move have run the gamut, from feelings of betrayal to hopes of new doors opening for the UK and its businesses, and fantastic opportunities to strengthen its global reputation.
The informal ambassadorial roles the Sussexes will undoubtedly fill have huge potential to lift the UK's prospects for tourism, trade, and international collaboration. This is how we see BELS (British Expats in Life Sciences)—as a lever to lift the prospects of UK life sciences.
Far from being "lost assets", the BELS community includes thousands of informal ambassadors who are happy to fly the flag, honoured to help the UK, willing to serve in some way, which varies by individual.
The UK life sciences brand can be enhanced and expanded with help from the BELS community. Our British-educated life scientists working abroad are great examples of the UK's scientific prowess, because they are part of it. Their schooling and, in most cases, their British upbringings created lifelong bonds to the UK. And as Prince Harry says, "That will never change."
BELS has worked to identify, track, engage with, and nurture thousands of these "fans", most of them important influencers within and beyond their own organisations, to keep them better informed and connected to the UK. The trick now is to get more folks in the UK taking action to access this golden goose.
Other enlightened countries—e.g., Ireland, India, Israel, China, Australia and New Zealand—are deriving enormous economic benefits from aptly accessing their talented diaspora.
All of us working in the life sciences who are British educated have much in common wherever we choose to live and work: warm feelings towards the UK, the talent to propel our sector forward, and the will to make a difference to the lives of patients.
Let's make 2020 the year we make a difference together. Please get in touch!
Nigel Gaymond, Executive Chairman, British Expats in Life Sciences (BELS)